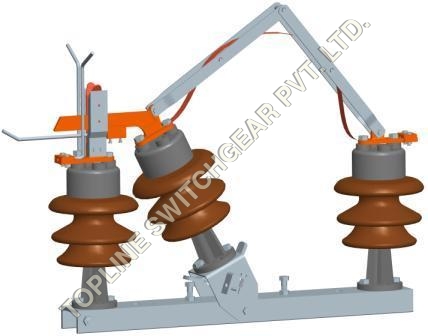 11KV, 200A AB Switch
Product Description
Application
The triple pole air break switch is gang operated and designed for outdoor application. The switch is intended for switching of the Transformer, Overhead lines and Cables from distribution system.
Construction
The A.B. Switch have triple pole construction and shall be suitable for Vertical / Horizontal mounting. Each pole consist of galvanized steel base, insulators of reputed make, copper alloy male and female contacts, arcing horns of adequate section to break magnetizing current of transformer. M.S. square coupling rod of adequate length for rocking operation, required length of G.I. pipe for operation from ground level and operating handle is specially design for smooth operation. Adjustable pins are provided to limit over travel of moving post. Ferrous parts are galvanized and non-ferrous parts are heavily tinned. Jumper is of EC grade braided copper of appropriate size to complete the current path from moving post to fix post.
Operation
The handle, fabricated from channel and angular lever, fabricated from angle, are designed for smooth, sturdy and trouble free operation. On and off operation should be quick for fast extinguishing the arc. The handle is provided with locking arrangement.
Installation
It can be mount vertically and horizontally on 2 nos. channels based on two-pole structure. Install three phases of AB switch on structure, pass the square coupling rod through bracket on center post, tighten all the bolts on moving brackets, keep the switch in ON position, fix the round pipe vertically and clamp the handle in ON position. Make it ON and OFF several times.
TECHNICAL PERTICULARS :
| | | |
| --- | --- | --- |
| Sr. No. | PART NAME | QTY. |
| 1 | SYSTEM VOLTAGE | 11 KV |
| 2 | RATED VOLTAGE | 12 KV |
| 3 | RATED CURRENT | 200 AMP. |
| 4 | IMPULSE WITHSTAND VOLTAGE TO EATH | 60 KV |
| | ACROSS THE TERMINALS | 75 KV |
| 5 | POWER FREQ. WITH STAND VOLT TO EARTH | 28 KV |
| | ACROSS THE TERMINALS | 32 KV |
| 6 | RATED SHORT TIME CURRENT FOR 1 SEC. | 10 KA |
| 7 | WEIGHT OF SWITCH SET (APX.) | 85 KG. |
| 8 | GOVERNING SPECIFICATION | IS 9921-1985 |